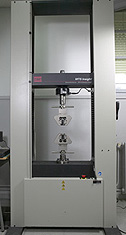 The main objective is to give service to the industrial sector in three fundamental areas of experience: Polymer chemistry, Surface Modification, Biomaterials and Tissue engineering. These experiences allow an interdisciplinary approach to basic and applied investigation projects. This research is focused on the following:
Research of technologies and methodologies related to Materials and Bioengineering.
Technology transfer oriented towards the business sector.
Advising, realization of studies, and service lending for businesses and administrations.
Training in applied chemical techniques for the development of materials or productive processes.