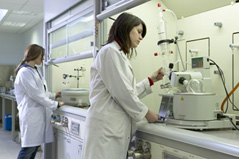 The Grup d'Enginyeria de Materials was founded in the year 1994 by Dr. Salvador Borrós, a current Full Professor in Material Science, with the objective of giving research service to the teaching community on this subject. From the beginning, the Group's efforts were driven to the field of polymeric materials, specially elastomers, conductive polymers and surface treatment.
In the year 2000, Dr. Carles Colominas, joined the group, which impulsed the area of surface modification.
Since then, in this period a balance between basic and applied investigation was pursued, and the different areas of investigation within the group have been consolidated, specially those related to Bioengineering. In the year 2001, Dr. Núria Agulló joined the Group. Her experience in the development of formulations and the synthesis of polymers made possible the reinforcement of the capacity of the Group in the industrial area, establishing stable contracts with the industry. The participation of the Group in European projects has been strengthened. The efforts in this field were recognized by the awards received. In the year 2001, the first Thesis in Biomaterials started.
Since then, the Group has tried to strengthen the interdisciplinarity of investigation through collaborations with different groups with great experience in the field of cellular biology, tissue engineering and the production of bioactive surfaces. By this time, the main research fields have been established: conductive polymers, rubber, ceramic materials and surface modification.
In 2003, the Group organizes in Barcelona the 1st Workshop in Bioengineering. In the year 2004, the 2nd Workshop takes place, now with the support of the IQS; the 3rd and 4th events were to follow. The IQS has been, through the Group, the founder of the European Technological Platform in Nanomedicine.
In this field, the first publications have been made, and the number of Ph. D.'s in the Group has increased substantially.
Moreover, 4 patents have been procured, more than 70 Final Year Projects and 3 Thesis have been directed, Ph. D. and graduate courses have been taught, and two Spin Off's have been created.
In these years, educational relationships have been established for the creation of projects like Webteaching.